About FishHoek.com
www.fishhoek.com was created on 17th October 2001 to meet the needs of the Fish Hoek Valley community at a time when the internet was still becoming established in the popular imagination. It was created and maintained by Fish Hoek Internet Centre, the oldest such facility in the area, (opened on April 11, 2000). As a community portal fishhoek.com has always offered free listings to all businesses, organisations and individuals in the extended valley area. To cover costs a limited number of adverts have been strategically placed on the site. The site which now contains over 150 pages is embellished by photographs of Fish Hoek all taken by the author Donald Gill. As a community resource the site is always under development as Fish Hoek develops and changes. Some information may be missing or out of date and you are asked kindly to help us maintain it by sending in the additions and amendments form below.
Fish Hoek.com was relaunched with an entirely new look on 14th September 2012 following the skilled input and redesign by Edward Matdat. This event was timed to mark our 6th millionth hit in the years since January 1st 2006.
www.fishhoek.com - Add or Amend a Link here

Listings on www.fishhoek.com are FREE for all organisations, businesses, charities etc that are based in the Fish Hoek Valley.

To this end you are very welcome to submit your own information either to create a new lisiting or amend an exisiting link.

The current listings have been gleaned from the area over the past three years and many will inevitably be out of date.

If you wish to place an advert either in banner form or in a box then please contact us for an inexpensive quote on weblinks@fishhoek.com or by calling 021 782 0233 / 021 782 7820
Contact info:

email: internet@fishhoek.com
technical: edward@fishhoek.com
phone/fax: 021 7820233


Statistics:
If you study the table below you will note that we have received 6 million hits since January 2006 and that our unique visits during that same period are close to 156,000 a year or 13,000 a month. (434 a day!)
Year

views

visits

hits

2006

184,436

112,608

504,516

2007

226,435

155,973

572,311

2008

163,477

108,985

548,560

2009

217,060

116,701

783,128

2010

283,935

170,830

1,564,277

2011

255,478

155,184

1,272,570

2012

views

visits

hits

January

22,590

17,596

115,942

February

22,954

16,612

99,996

March

24,293

14,451

110,388

April

23,576

14,957

103,926

May

26,866

17,381

106,153

June

22,354

12,824

100,028

July

31,024

19,363

108,861

August

27,033

16,439

104,906

September

28,005

11,137

113,354

Month ave *

25,596

15,493

104,882

Day ave *


934

566

3,859

2012 Total

255,957

154,926

1,057,294

5 yr Totals

1,562,876

961,041

6,208,916

NOW over 6 MILLION HITS SINCE 2006!
* The month and day average rows above refer to 2012 only.
Web Design & Web Hosting:
www.fishhoek.com offers first class web design and webhosting packages based on a server in the USA which guarantees top speeds for both international and local browsers. Our technician designer Edward Matdat has accumulated an impressive portfolio specialising in guesthouses and local businesses. Please click on the banners/links below to see a selection of his most recent work.
---Sunny Cove Manor---
---Blue Bottle Liquors---
---Southern Brides ---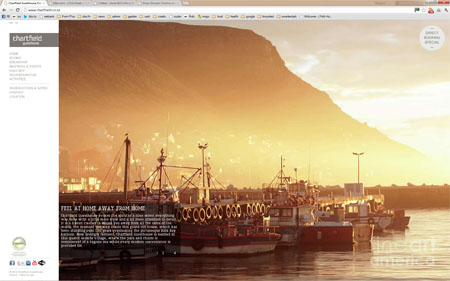 --- Chartfield Guest House, Kalk Bay ---


--- The Inn at Castle Hill, Kalk Bay ---
If you would like a quotation on a brand new custom website (we don't use templates) or an upgrade to your existing website at a price you can afford and done to your specifications then contact us by emailing
websites@fishhoek.com or calling 021 782 0233
ADVERTISING
Advertising on www.fishhoek.com is inexpensive. Please visit our advertising page for more information.
Who links to us?
Please click
here
to find out
-------------------- ADVERTISING --------------------